November 17th, 2008 Posted in
Reviews
,
Featured
A Digital Dreamer takes a close look at this gem of a PS3 game that every designer should take the time to play.
We had heard a lot of great things about LittleBigPlanet for the Playstation 3 months before it was released. We heard things like the way the characters were designed and showed emotions brought instant smiles on the faces of pretty much anyone who had a chance to play it. We had heard about great looking levels, multiplayer interaction, and creation aspects of the game. Little did we know… Little did we know…
Getting down to the most basic elements of the game, LittleBigPlanet is essentially a 2D side scrolling adventure. To leave it at that though would be criminal. The levels and puzzles you face in this beautiful world are some of the best level design concepts I've ever encountered. I was often left thinking, "How did they ever think of that? This game just from the single player elements alone warrants an instant purchase for those wanting to see a fresh angle to level design and problem solving at its purest form.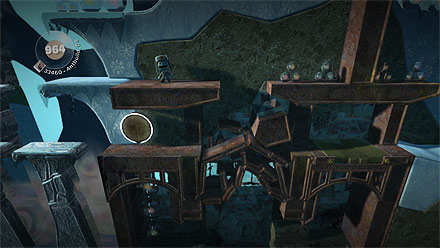 One of the many beautiful levels in the single player experience. It's 2D meets 3D.
You can walk, run, jump, grab on and hold. But the execution of these elements PLUS the superb physics based puzzles put overly complicated controls of most "advanced" games today to shame. Everything in this stunning world is based on deep yet simple physics. It's these physics that really sets this game apart, and really makes the creation aspects of this game all the more special.
Game Design Power in your Hands
We have never experienced a game or commercial game design tool that allows you to so quickly and effectively flesh out game concepts or ideas in such a rich, robust and yet user friendly way. Of course you are limited by the fact that it's in a 2D environment with 3D elements, but the power is still there. You can literally create a level from start to finish in half an hour, and come up with something you could be proud of. Want to design a catapult that shoots you over a wall, a dragon that breathes fire, a car that can jump over things, a rocket ship, a snake, a vehicle that can walk on walls? They've already been created by gamers already in this game. Want to create a level in the desert with scorpions, flaming boulders that fall from the sky, and a wall you need to destroy with explosives? You can easily do something like this.
The tools and materials provided in this game are staggering and yet so user friendly and accessible. The developers have found a great way to make users want to play through the single player experience first. They've sprinkled stickers, materials, tools and objects throughout the 50 or so single player levels so you'll want to play through to add to your toolbox for your own creations. And we found it VERY addicting trying to get these elements from the levels we played.
The Tools
Some of the tools we encountered were motor bolts, springs, pistons, rockets, grab switches, proximity switches, camera controls, light and color controls, check points, scoreboards, race starting points, brains for AI (You can create creatures that follow you, flee and so on), wheels, legs, eyes, element changers (You can light something on fire, give it an electrical charge, or make it give off toxic fumes), emitters and more.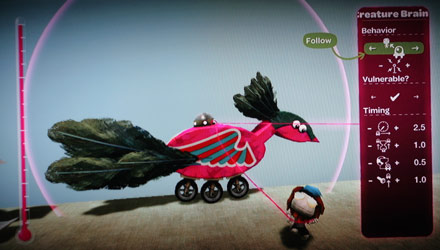 Some of the options for AI in LittleBigPlanet. We created this bird that would follow us from scratch in about 5 minutes
What is even more mind blowing is that most of these things are tweakable and combinable. Want to make that rocket connected to that horse to fire up and take off when you grab the horse? Go for it. Is it too powerful? Just tweak the rocket boost down to your liking. Do you want to have a ghost you created come out of the stump of a tree when a player gets close and have it chase after you? Go for it. The possibilities are just endless with this game. A review like this can't even come close to explaining what's possible with this game.
Materials Galore
As if this wasn't enough, the developers have included just an enormous amount of materials and textures to work with in this game. The really cool part though is that each material reacts and weighs down just like in real life. In other words, a falling rock made out of stone will crush your character, but make it out of foam? You'll be just fine. Make it out of wood? That might be just light enough for you to survive, but maybe not. It all depends on what the material is and how big it is. So you make a hill made out of glass? Make sure not to slip. Make it out of cloth, and you can even grab onto it and traction will be a lot better.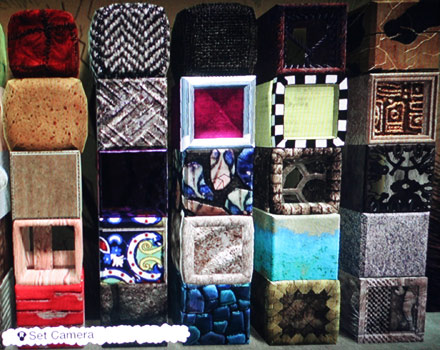 This is just a sampling of some of the materials you can use in this game. Stone like stone is heavy, glass is slippery, cloth can be grabbed, and some materials even float in the air!
It's not like there is just 2-3 wood materials, 1 cloth material or 1 metal either. Try 15+ types of metal, stonework, cloth, glass, wood, and then some other materials like rubber, Styrofoam, cardboard, sandpaper… It's just staggering.
The way each material is rendered is just beautiful. This is one of the best looking games I've ever seen both technically and artistically. Cloth looks just like cloth and glass reflects and refracts the way it should. A common phrase I hear people use when describing LittleBigPlanet visuals is that "It looks like one of those dioramas I created as a kid.
Molding, Shaping, Creating
So you have all of these tools and materials, but what can you do with them? Luckily the developers have created an amazing set of shape editing tools to create the shapes you want with a fair amount of ease. These are by far the easiest set of creation tools I've seen in a game. So let's say you want to create a plaid cloth cactus. For that, I'd choose the plaid fabric obviously, but then use an oval to start shaping things out. Pressing a button places the oval object right in the level in real time. Keeping the button down and moving the left stick allows me to add to the shape like any paint brush in Photoshop or Gimp, but this is done in a 3D environment.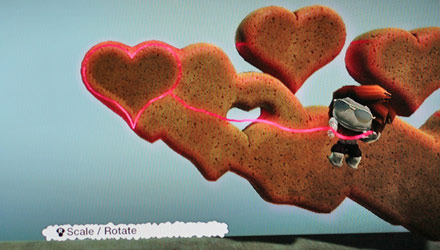 Using just a heart shape in this screen, holding the button down allows you to use the shape very much like a brush in Photoshop.
You can rotate the shape, invert it, resize it to whatever you need. Pressing another button acts as an eraser using the same shape. There are also cubes, stars, hearts, moons, diamonds, various sphere shapes to allow really an unlimited. You can really create whatever you want in this game. People have created dragons, cars, snakes, people, robots, buildings, caves, hot air balloons, and more.
Play Testing Made Simple
So you've put all of this together to make a level that you're proud of, but there have got to be errors and bugs like any game that you've missed. I guess it's time to send in a request to have it tested days later. How about just invite up to 3 other friends right then and there to try it out? Not only can you have your friends try out and play your level within minutes, you can be one of the players watching and at the same time guiding your friends through the level. The instant feedback you get by both their comments (This game has voice chat built right it) and by seeing where they are running into trouble is amazing. Publishing a level means that anyone connected to the internet can play your level. You'll see how many people have played it, how many people are playing it currently, if they mark it as a favourite (Heart it) and the comments they leave. Never in gaming has there been such quick instant feedback for your creations in a game.
In Conclusion
I'll just cut to the chase. I've been looking for a game like this for a looooong time. As a graphics professional and just a creative person in general, I've found something very special on the Playstation 3. For any designer that is looking for an amazing tool for creative expression, game design conceptualization, a quick way to test game ideas and just the best sandbox game on the market, look no further than LittleBigPlanet on the Playstation 3. From the amazing visuals, to the deep yet incredibly accessible tools, to the community features of this game that make your creations instantly accessible to the world… I couldn't suggest a better game for the creative professional. It's fun, rewarding and really probably is the first game in history that can truly be defined as a sandbox game.
9.8 / 10
LittleBigPlanet is available on the Playstation 3 and is developed by Media Molecule