3D Animation Software
When looking at purchasing and / or learning 3d animation software to land a job, keep in mind that the most important program you can learn is the one you will be using at work. So if you know that your workplace will be using 3ds Max, that would be the best choice for you. If they are using Cinema 4d, opt to learn that software.
If you are going to go freelance on the other hand or will do this as a hobby, you have more flexibility choosing what works best for you (and your budget). In the end, all software is merely a tool. But software isn't just an investment of money, but time as well as you learn to master it and make it do for you what you want and need it to.
While there are other great software packages out there that focus on 3D animation, we've hand selected some of the most used in the 3d animation industry. Hopefully this breakdown will give you a bit of direction as to what might be a good option for you.

Maya from Autodesk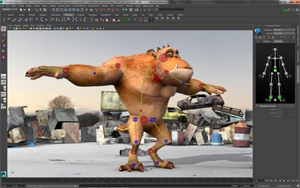 Maya is one of several popular software tools being used today in the motion picture and video game industries. A high end and robust tool originally developed by Alias Systems, Maya has a huge following in the film industry, and is also big in the gaming industry as well. Maya provides powerful tools essential to the animator, including key frame animation, nonlinear animation, and path animation tools. This program also provides full render controls for shading and lighting, and realistic effects tools for smoke and hair. Perhaps one of the best features to Maya is its open architecture, which allows for third-party integration and an incredible level of customization. Using MEL, you can script almost anything, which gives greater control over everything. If you had to learn one program for computer animation to land a job in the industry, this would be a safe bet.

Learn more about Maya at Autodesk.com

3ds Max from Autodesk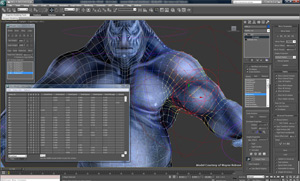 A popular and powerful 3d animation and modeling application from Autodesk, 3ds Max is primarily used in video game development and in TV production studios for the creation of rich, complex characters and 3D objects, as well as for design visualization. 3ds Max boasts a more user friendly interface than other packages, with a UI that makes it easier for the artist to focus on the project at hand and the creative process. Many would say that 3ds Max has an easier interface than Maya. 3ds Max offers a full suite of animation tools including animated deformers, character rigging, and more. If you are interested in working and animating in the video game industry, learning this software would probably give you you best chance to land a related job.
Learn more about 3ds Max at Autodesk.com

Softimage from Autodesk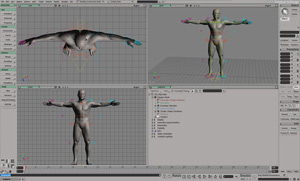 Autodesk Softimage is yet another software solution from Autodesk that offers a great option for 3d animation special effects. While it still has a loyal following, many users would rather opt for either 3ds Max or Maya if they are going to have to spend that much money. But this software is known in the special effects and broadcast industry, and shouldn't be overlooked.
Learn more about Softimage at Autodesk.com
Blender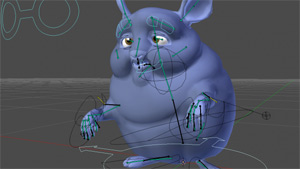 While this open source software is free, it offers quite an impressive set of features that can challenge software packages that cost a pretty penny. Blender offers quick rigging for animators as well as a pretty extensive toolset for other 3d animation tasks. While this most likely wouldn't be used in a bigger studio environment, you can achieve excellent results from this software package. I would rather have a good 3d artist complete a project in Blender than an average 3d artist complete the same project in Maya. Considering also the fact that you are generally looking at least $1000+ for most of these programs, a free open source program like Blender is a great option for those who can't fork out a big wad of cash on some of the other options. It's also worth noting that while you will learn 3d concepts and principles that translate to any program when learning this software, the interface and workflow is known to be different enough from say Maya or 3ds Max to make it more challenging to learn these other programs.
Learn more about Blender at Blender.org

MODO from The Foundry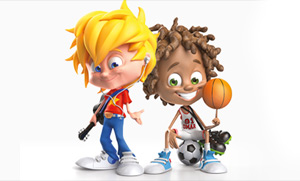 Known especially for their excellent modeling tools, MODO also offers a great blend of sculpting, animation and simulation tools. Previously published and developed by Luxology, The Foundry gives this software package some excellent professional options now and in the future. MODO is also known for it's excellent renderer as well as live preview to see your detailed changes in real time vs having to do a quick render separately. Costing less than half as much as Maya and 3ds Max, this software is highly regarded for the value it offers and the powerful tools at the user's disposal. While this software is gaining traction in the industry, it still wouldn't be considered the standard in most studios at this time. That could soon change with each release making big gains in the feature department.
Learn more about Blender at Thefoundry.co.uk

Cinema 4D from Maxon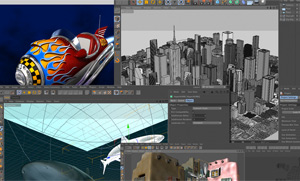 While Cinema 4D isn't often used in biggerstudios, it can provide excellent results. Known for it's ease of use, Cinema 4D also offers a good blend of features for those wanting a more complete package. One thing to consider though is the various tiers of features based on what version you buy. The most basic is called "Prime", which is lacking some of the features of the "Studio". Prices start at $1000 and end at the same price of Maya or 3ds Max. This is probably the best package if you are doing a lot of 3d text, but can obviously do a whole lot more.
Learn more about Cinema 4D at Maxon.net

Lightwave from Newtek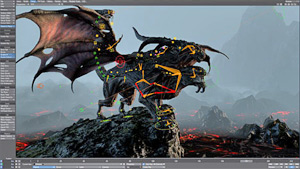 Lightwave has been around a long time in the 3d animation industry, offering some strong options for those wanting a capable 3d solution in one package. Lightwave has been especially known in the TV visual effects industry, and is gaining ground once again as an excellent special effects solution. While Newtek did have a dry spell with Lightwave in terms of direction and development, the addition of Rob Powers as VP (Rob was a big part of the movie Avatar's 3d effects) have brought Lightwave back into serious contention in the industry. This software has some great addons like Turbulence FD that further extend the special effects capabilities of this setup.
Learn more about Lightwave at Lightwave3d.com
Make sure to also check out:
Computer Animation Schools
Animation Career Information
How to Become a 3D Modeler