Photography Salary Information
Photography is a competitive profession. It is still possible, however, to earn a good salary and make a successful career as a photographer if you have the talent and dedication.
Job statistics According to the government's Bureau of Labor Studies, photographers held around 152,000 jobs in 2008; of these, 50% were self-employed, many more than the average for all other occupations. Between now and 2018, jobs are expected to grow 12%.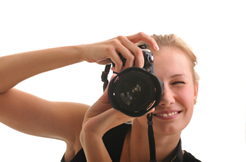 Self-employment is popular with photographers because it gives them the freedom to pursue their own creative projects. The disadvantages are that without an employer the photographer has the job of finding and developing new clients and doing all the administration of running a business. Without a fixed salary, income levels are uncertain. Some photographers starting out might opt for a more stable temporary part time job and slowly build up their client base on the side before they jump 100% in to freelance photography.
Photographer statistics for salaried positions showed that most worked for commercial photography studios, advertising agencies, magazines, newspapers and television companies.

What can a photographer expect to earn?
Statistics show that for a photographer, the average annual salary was $29,440. The lowest 10% earned less than $16,920, the middle 50% between $20,620 and $43,530 while the highest 10% earned upwards of $62,430.

Related Resources
Do you want to get an edge and increase the chances of landing a photography related job? Check out our listing of some Photography Schools and Programs.