Video Game Development Software:
If you have this awesome video game idea and are thinking of creating your own video game, you're not the only one. Luckily, there's a lot of video game making software options out there to help you create your own games​ and with the proliferation of sites that sell used video games online, it's easier than ever to try and get new ideas for your own games​. Below are some of the more popular game creation software options at your disposal.

Free Game Making Software: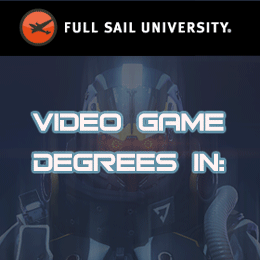 Game Maker: Studio (Our top pick to get started)
Using easy to learn drag-and-drop actions, you can create professional looking games within very little time. You can make games with backgrounds, animated graphics, music and sound effects, and even 3D games! And when you've become more experienced, there is a built-in programming language, which gives you the full flexibility of creating games with Game Maker. What is best, is the fact that Game Maker can be used free of charge.
3D Adventure Studio
A free editor for creating adventure games in style of Gabriel Knight 3. It consists of two parts:

-An editor: To allow you to create your own 3D Adenture games.
-A runtime engine: To play games created with 3D Adventure Studio.


Commercial Game Making Software:
DarkBasic Pro
DarkBASIC Professional is the most advanced games development package built on the BASIC language currently available. No other package out there makes it as easy to incorporate all of the special features and effects you see in todays games and no other package natively offers the benefits of Microsofts DirectX 9 technology.

GLBasic
If you are searching for an easy to learn, fast to write, and flexible language for programming games, then GLBasic is what you need.

gameSpace
No longer are eye boggling, photorealistic 3D graphics limited to the domain of large game and film studios. gameSpace brings this power to people like you - the independent game developer, the passionate modder, the small studio artist - who are determined to create the world's next greatest game.

Providing you with a complete and professional game graphics creation platform at an affordable price, gameSpace is designed for individuals who are serious about creating amazing content.

GameStudio
With hundreds of published titles, Gamestudio is the leading authoring suite for 2D and 3D multimedia projects, especially computer games. It is not merely a game engine. It is a complete development system. It combines the C-Script programming language with a high end 3D engine, a 2D engine, a physics engine, level, terrain and model editors, and huge libraries of 3D objects, artwork and ready-assembled games. It was never easier to create 1st person games, 3rd person games, role playing games, side scrollers, flight simulators, board games, sports games, real-time presentations, virtual exhibitions.. or any other 2D or 3D project you can imagine!