Video Game Art Careers
Are you artistic and also have a love for video games? If so, you might want to consider a career in video game art.

What does video game art include?
There is often an overlap in tasks with several members of a video game studio. In general though, video game artists work on the visual aspects of the design of the game. This includes concept art, texture design, 2d art, 3d modeling and animation. Concept art provides the visual backbone or structure for the entire project. It gives the whole team the direction to follow to obtain the artistic goals of the game. Texture design is the vital role of basically providing the "paint"covering the 3d objects so a plain 3d rectangle can be visually transformed into a realistic worn out wall, or a sphere into a cool planet. Texture mapping is applying these textures to the objects in a convincing way to complete the transformation. The modelers create the 3d objects, characters and worlds while the animators put this all in motion.

Full Sail University
(Our Top Pick)
Location:
Orlando, Florida and Online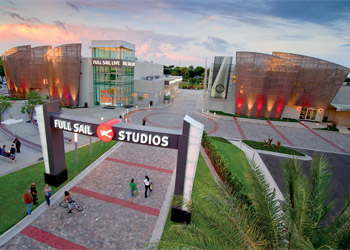 Bachelor of Game Art
As gaming design technology evolves, Full Sail University's Game Art Bachelor's Degree Program teaches you to develop specialized, realistic elements for breathtaking game experiences. The program's coursework focuses on 3D art and content creation, with a heavy emphasis on character development, shading and lighting, texturing, and modeling – giving you a solid foundation in the art skills needed for game production.
Depending on where you work, your job as a game artist can include any combination of these tasks.

Qualities of good video game artists
There are some skills, talents and qualities that you're going to want to have if you want to become a video game artist. Creativity is an absolute must in this career. You might as well not even try if you aren't creative. You should be able to clearly and effectively communicate this creativity visually and do so quickly. A good video game artist must also communicate clearly with other team members and adjust their ideas and visions to the give and take of a project. Game artists must work along side with programmers to make sure the game engine can handle the artistic goals of the project. It's not uncommon for game artists to be forced to cut back their vision a bit to make the visuals work well with the game engine.

The outlook for video game artists in 2015
As the graphical power of consoles and pcs continue to reach crazy levels, the need for game artists to push visuals to match that power is increasing. But there are a lot of artistic people that are entering this field, so your work is going to have to stand out. A good program focusing on game art and design or animation can go a long way to directing your talent and skills into something that will get yourself noticed by employers.


Video game art training
As we just mentioned, standing out in this industry is essential in you landing a job in video game art. Luckily there are some very targeted programs offering curriculum that falls right in line for those interested in this career. Full Sail University for example offers a game art degree, as well as other video game art schools. Depending on what focus of game art you are interested in, you can also get related training in game design as well as animation.
Make sure to also check out:
Video Game Design Schools
Video Game Design Jobs
Character Designers
Texture Artist Jobs
AI in Video Games