A Look at the Salary of a Graphic Designer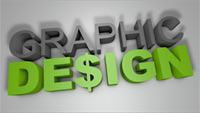 Graphic designers use images and type to create a wide array of products, from corporate brochures to CD covers to book jackets and logos. While publishing and advertising are two of the most prevalent industries when it comes to employing graphic designers, almost every industry relies on the services of graphic designers when it comes time to produce printed materials. In many cases, graphic designers also significantly contribute to online materials and designs. Graphic designers work with images and text in a variety of formats, from print to electronic. Most graphic design today, however, relies on computer software, and the combination of the designer's creativity and skilled eye and his or her technical savvy is a crucial one.

The current median wage for graphic designers is around $35,000, with most designers earning between $20,000 and $60,000. While full-time salaried graphic design positions are available, many graphic designers work on a contract, freelance basis. For graphic designers who set out on their own, business savvy plays an important role in their ability to succeed.


Outlook for graphic designers

Graphic design, like many creative fields, is intensely competitive. While the outlook for the field is bright considering the increasing demand for graphics, particularly those destined for online uses, it is a field that continues to attract many talented individuals. When considering a career in graphic design it is important to remember how competitive the field is.

No formal degree is required to become a graphic designer, although many entry-level positions require a bachelors degree. Nonetheless, a focused graphic design degree can be enormously beneficial, improving your skills and helping you to develop a strong portfolio, which is generally the most essential part of finding work in the field.
Next>> What are some of my options for training in graphic design?
Make sure to also check out:
Graphic Design Schools
Picking the Right Graphic Design School
Graphic Design Job Descriptions
Illustration Jobs
Layout Artist Jobs
The Graphic Designer Salary