1) The Print Portfolio...

This is the one format that has been around before we got into all of this Internet stuff, and is still the kind of visual showcase that quite a few clients and employers want to see. At least those that are into print output. What do you include? Only your best. I know that sounds like a no brainer, but often students will put quantity first over quality and ruin it. Yes, you need to show that you can do things well, but not by flooding it with items that are good but not great.
What should all of this stuff be presented in? A good idea is to have some sort of coiled book/case where you can add and take out pages as you need them. Black seems to be the color of choice, which really sets off the samples with some strong contrast.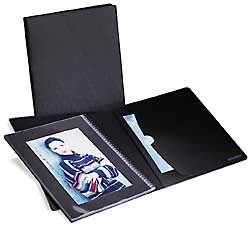 Make sure that it has a nice cover like leather or something professional looking. The example on the left here gives you an idea of what to look for. The pages should turn easily, and the book itself should be big enough to give some breathing room for your samples.
As mentioned earlier, look for something that you can add or take out pages. This way you can customize your portfolio for each kind of job that you apply for. Applying for a job that requires a lot of photo manipulation skills and not much typography? Put in more samples that reflect your strength in Photoshop and take out some that you think are just fillers. That is not to say that you just focus on one thing. You should be showing that you are well balanced... But this way you can put a stronger slant on the PF to really showcase what they are looking for. That is if you know what they are looking for. Try and find this out before you walk in there so you can be well focused. ; )

Next up, we'll look at the Online Graphic Design Portfolio

Or Jump back to Portfolio Introduction
Make sure to also check out:
Graphic Design Schools
Picking the Right Graphic Design School
Graphic Design Job Descriptions
Illustration Jobs
Layout Artist Jobs
The Graphic Designer Salary